Diese Seite hat keine lokalisierte Version in deutscher Sprache
FXSSI.OrderBook
//= \components\ADS::drawAdsenseSlot('ssi-responsive-top') ?>
Most efficient sentiment analysis indicator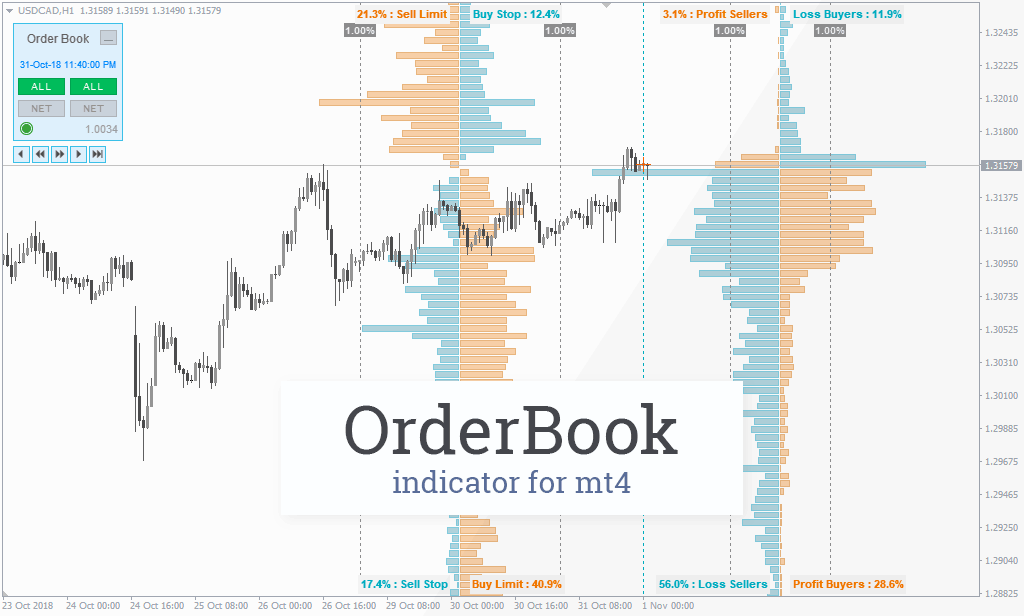 Analyze market sentiment straight from the MT4 terminal using our advanced OrderBook indicator.
Using the indicator, you will be able to recognize the levels with the largest accumulation of stop losses, determine the chances of bulls or bears to develop an "attack".
This indicator will become a valuable assistant for any trader who follows the "trading against the crowd" strategy.
Mainly used for:
Intraday trading;
Determining the future order directions;
Placing Stop and Take Orders;
For determining the entry point.
Some of our clients admit that this indicator is "addictive" and they cannot imagine their market analysis without it.
What information does the indicator show?
OrderBook is a comprehensive signal indicator that consists of two parts:
Left OrderBook — displays all pending orders including take profits and stop losses.
Right OrderBook  — displays orders of market participants that are still open at the moment.
Then, both OrderBooks are divided into quarters, which represent a specific type of order. For example: Sell Limit, Buy Stop, Profit Sellers or Loss Buyers, etc.
By analyzing this information and considering different patterns of crowd behavior, you can make comprehensive trading decisions. And by "comprehensive" we mean that the indicator signals are clear enough to use them as a basis for entering the market.
If you are interested in this indicator and want to continue studying it, our "trading against the crowd" strategy guide will help you to understand the method of analyzing and interpreting the data displayed.
Indicator Capabilities
The indicator was developed by a team of experienced traders and programmers, therefore it is not only a data transfer program but also a convenient and effective analysis tool.
Some of the features of the OrderBook indicator:
Quick access to data – switch between modes using the buttons on the indicator panel. There is no need to enter the indicator settings to change the type of data displayed.
History browsing – the indicator allows you to view the history of snapshots. The history depth depends on the subscription plan you choose.
4 display layouts – simplified/classic, one-sided/two-sided. See the image at the top of the page for details.
Auto settings – the indicator is equipped with a function to automatically determine the color scheme and time zone.
We continue to develop this indicator and we improve it regularly.
For your convenience, we have implemented a system of Indicator Automatic Updates. Now, to get the latest versions, you just need to restart the terminal. You will receive an appropriate message in a special window.
---
Installation
Extract downloaded .zip file to your MQL4/ folder. For more details read the instructions:
If you have any questions, please contact us.